We're excited to be launching our latest feature Open Opportunities to help consultants find rewarding projects that matches their skillsets and preferences. Through the Open Opportunities marketplace, Clora is thrilled to connect you with top-tier employers and high quality projects. Simply log into your consultant account to browse all open projects.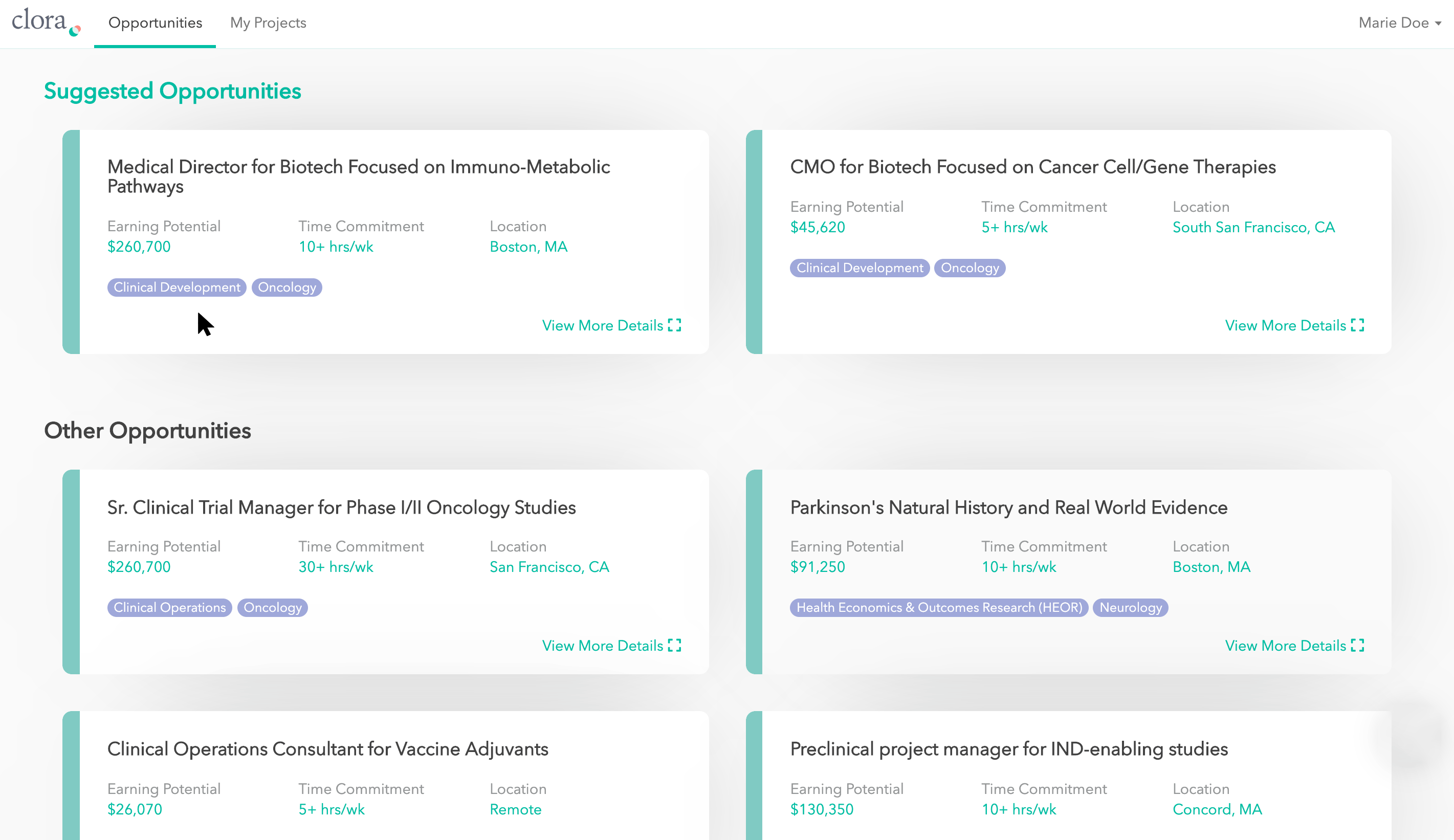 How It works:
Tell us a little about yourself, we want to enhance your profile to ensure high quality project matches.
If you're a new user, Clora will help you create your profile in just a few minutes. Simply start by uploading your resume, answer some additional questions and Clora will take care of the rest.
If you're an existing user, don't forget to update your profile with the most up to date information regarding your expertise and background. The more Clora knows about you, the better we'll be able to provide you with the opportunities matching your interests.
Updating your profile is easy, simply click on your name from the top right-hand side of the screen then select View Profile. From there, you can edit your profile and access Open Opportunities.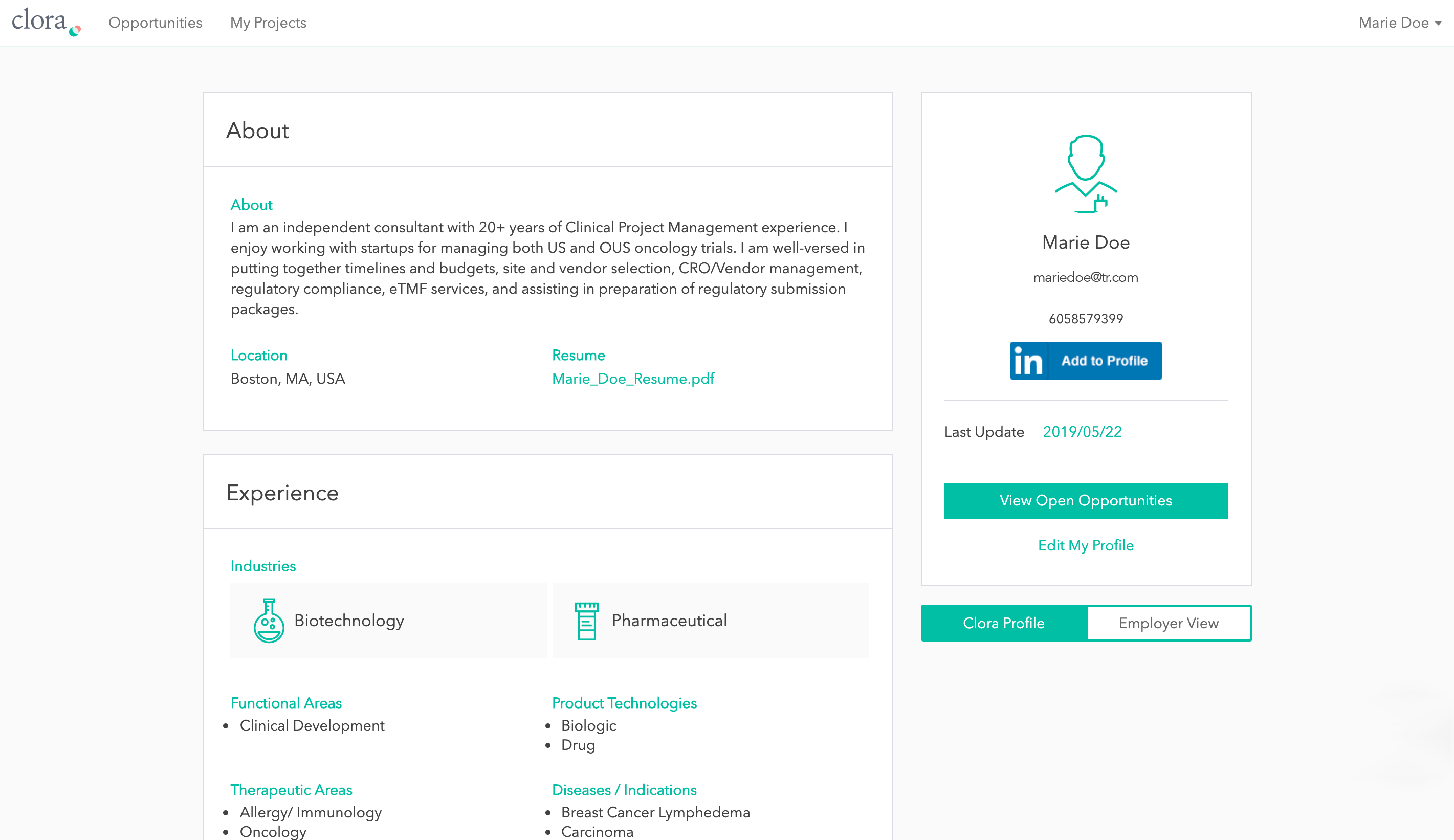 Once you've updated your profile, you're now ready to browse Open Opportunities. Open Opportunities will provide you with suggestions and other open projects we think you might be interested in based on your profile.
Once you've come across a project matching your interest, simply click on the project card to view more details to read a quick overview and decide if you'd like to submit a proposal.
Note: We get new projects every week across a broad spectrum of functional areas.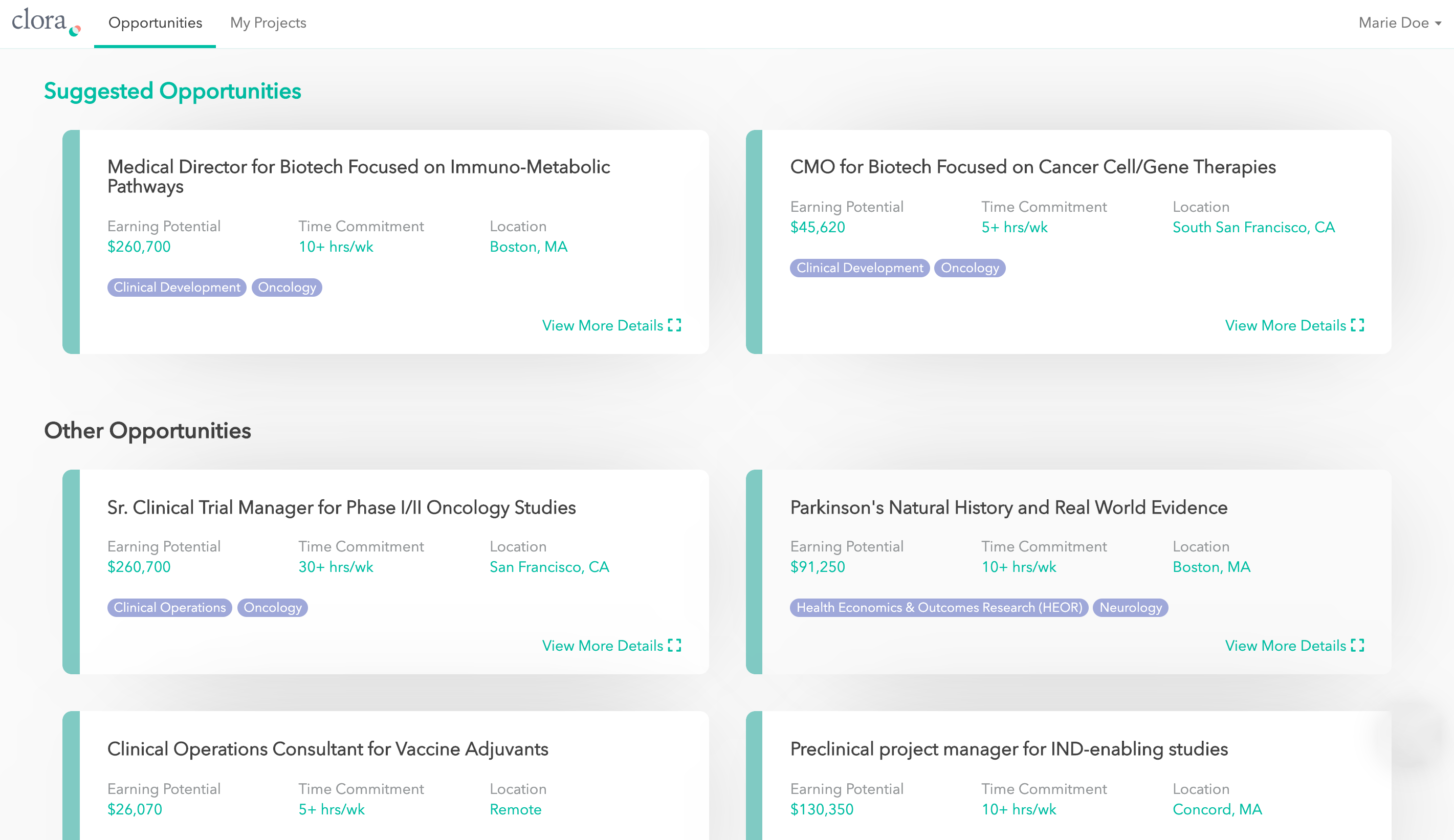 You see a project you like?
Read more details about it and create your proposal by clicking 'I'm Interested'.
Don't have the time to submit your proposal right now? Don't worry, a draft will be kept in your 'My projects' tab.
Review & Submit your proposal to Clora.
Our team will reach out to you if any additional changes or clarifications are needed.
Once finalized, the proposal will be submitted to the employer for consideration.
If an employer has expressed interest in your proposal, we will follow up with next steps to begin the matching process.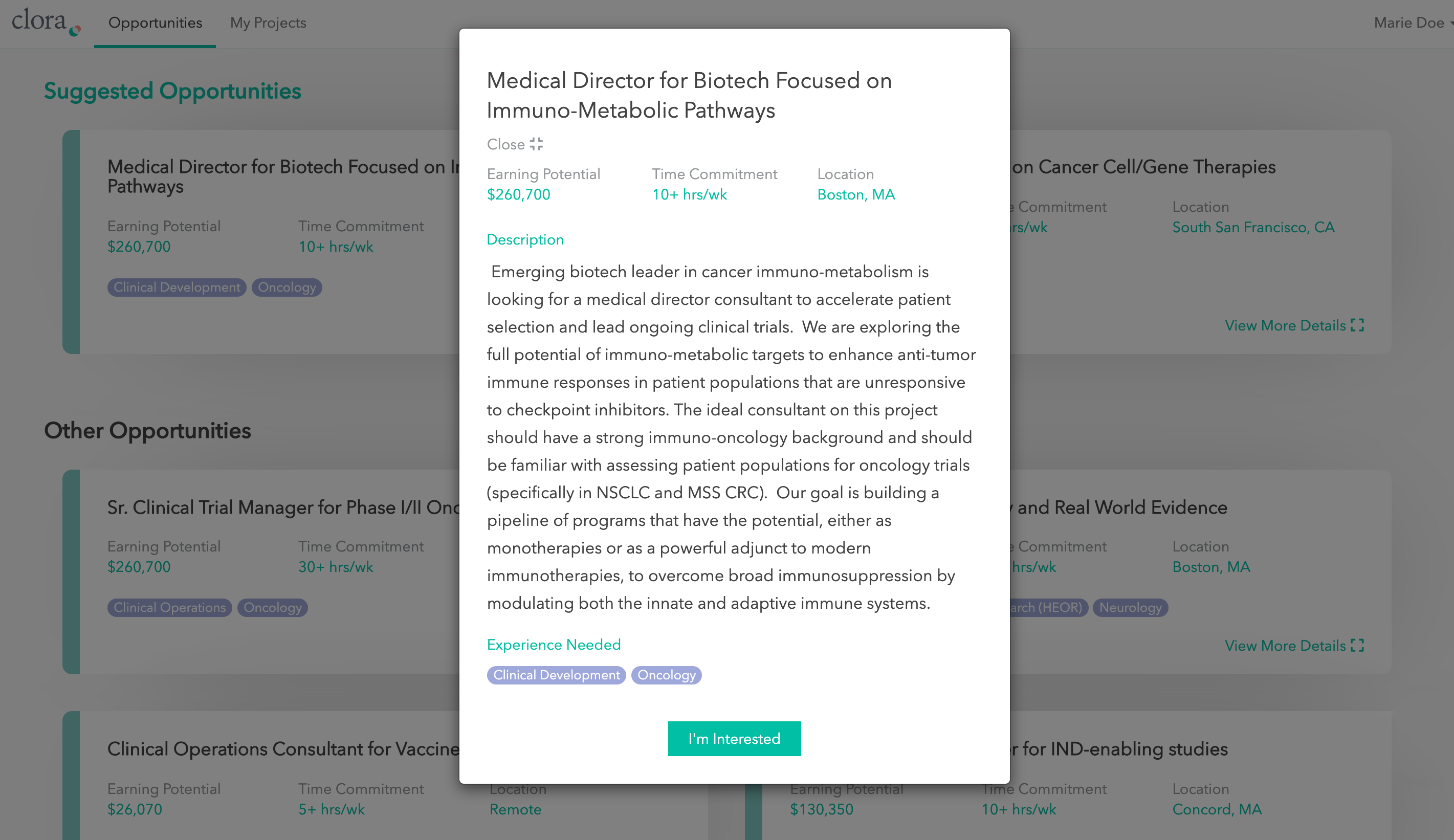 Track your proposals
Check the status of your proposals under My Projects. Below, you will find the meaning for each status:

Draft: You have yet to submit your proposal.
Submitted: Your proposal is being considered for the project.
Awarded: Woohoo!! 🎉 Your proposal was accepted by the Employer!
Note: Employers or the team at Clora may reach out to you to request any additional information. When this happen, your proposal will appear under 'Feedback' with the additional request.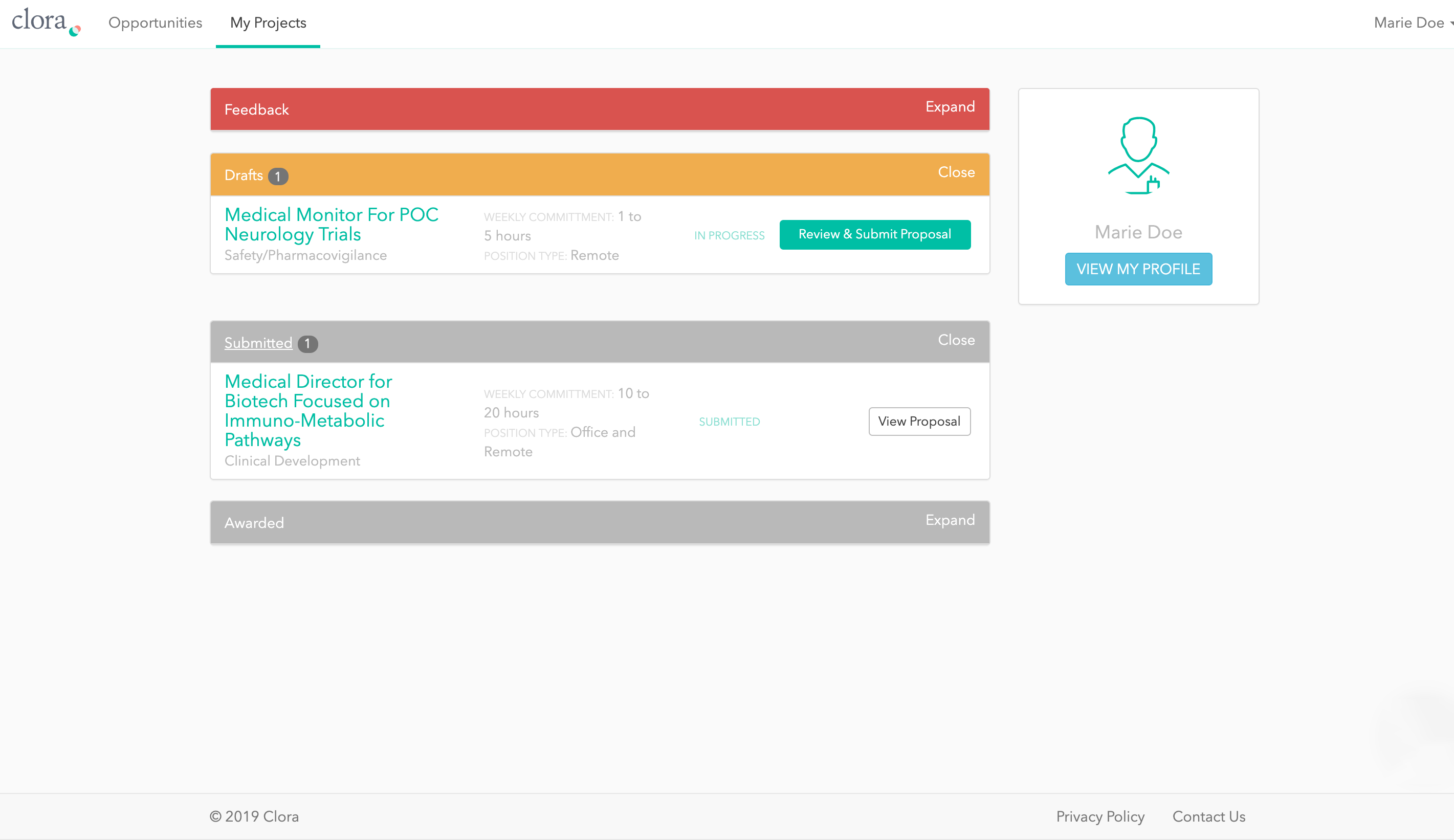 Should you have any questions or comments please don't hesitate to reach out to our team at hello@clora.com.